How to Earn from Affiliate Marketing
Affiliate marketing is about making money. Gobs of money. Money for doing nothing.At least that's what a quick Google search would have you believe, but as usual, the truth is a little more complex than that.Yes, you can make money through affiliate marketing. Good money. And, yes, you can even make money while you sleep.
Getting Started With Affiliate Marketing
Now you know the basic definition of affiliate marketing and how the process works, so let's talk about how to get started.
Many would-be affiliate marketers don't take the time to plan and instead sign up for every affiliate marketing network or affiliate marketing program they can find.
They end up overwhelmed and overloaded.
Don't be like them.
Take your time and work through these 7 steps if you want to set yourself up for success. Complete the first 4 steps before you even consider promoting a single product.
Do you say "nitch" or "neesh?"
Either way you pronounce it, choosing a niche will give focus to your business and help you with content. It'll also make it easier to create targeted marketing campaigns.
For some people, choosing their niche is the hardest part of starting their own business, but it doesn't have to be that way. To choose your niche, it just takes asking a few questions:
What am I passionate about? Typically, the things we're passionate about are things we're also already knowledgeable about, which makes it much easier to create content.
Is this topic big enough? Is there enough to the topic to create up to 100 blog posts? If not, you may struggle with search engine optimization or have trouble developing authority.
Is the niche oversaturated? Is there room for another affiliate in the niche? Before jumping into an overly popular niche and trying to compete with folks who've been around for a while, maybe give another niche a try.
Is there money in this niche? Money isn't everything, to be sure. If you're interested in a couple of topics and one is a moneymaker, but one isn't… choose the moneymaker.
You can check out a niche on an affiliate retailer like ClickBank to see if it's worth putting time into it.
To do this, go to the ClickBank site and click on Affiliate Marketplace: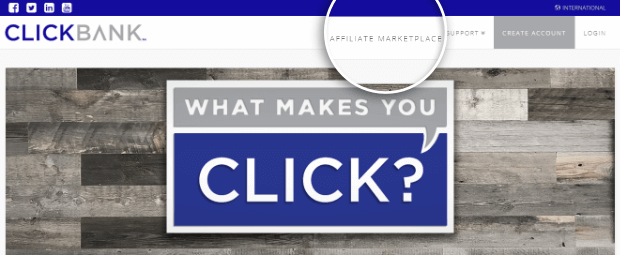 From there you'll see categories in red on the left: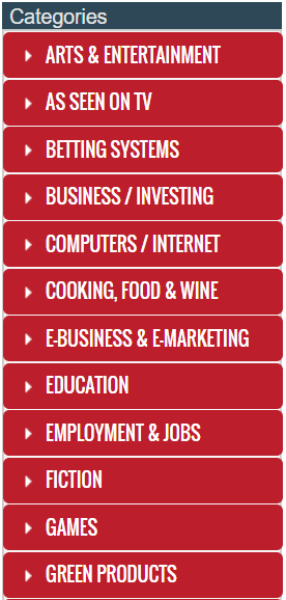 Clicking on one of the categories will bring up a page with filters on the left and the different products that you could sell for your niche on the right: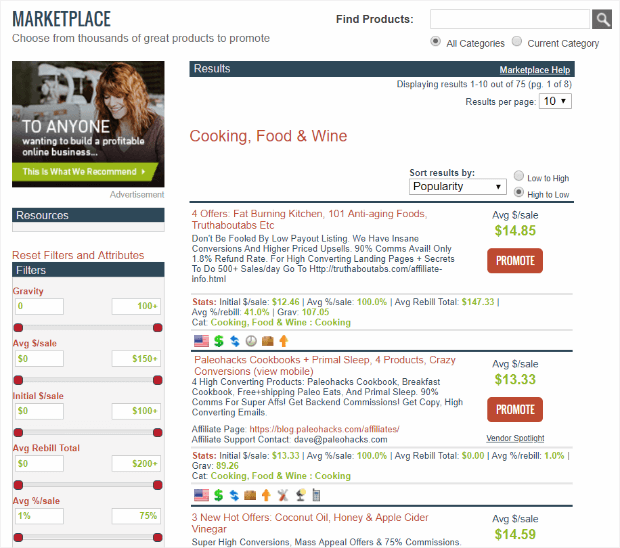 Quick Tip: Sort by the Gravity metric to rank the affiliate products by how well they sell for the niche you've chosen.
What you're looking for is products that have a high Gravity score, decent average income per sale, and that would fit in naturally with your content. If you're finding plenty of products you would be able to write about, you've found a profitable niche
Once you've found a profitable niche that you're excited about, you're ready to build a website and blog. WPBeginner has a great guide to help you choose the best blogging platform that will definitely make this process a lot easier.
The primary focus of your site is going to be your blog, but there are several pages that you should consider including (and some that are a flat-out MUST for affiliate marketers):
About: Make it personable and let people get to know you a little.
Contact: This should include all contact information that you want to share with your readers, advertisers, or potential partners.
Disclaimer: If your site is monetized, this is where you share the how of it.
Privacy Policy: Let users know if you collect any information about them and how that information is used.
Terms of Service: This is a legal page limiting your liability in the event of misuse of information or services provided on your site. It also details user responsibilities regarding copyrights and trademarks.
Custom 404 Page: A custom 404 page goes a long way toward improving the user experience.
Advertise:  If you plan on selling on-site ads, include a page for advertisers with information about available spots, monthly views, audience demographics, and a contact form.
It's important to make sure that your policies are clear and upfront to avoid confusion and to build trust with your audience.
3. Create Quality Content
Now that the framework of your page is ready to go, you need to create content.
Some affiliate networks and affiliate programs require you to already have established content, site traffic, and monthly views at a certain level before they'll accept you as an affiliate, so be sure to read the eligibility requirements for the specific networks and programs you're considering before you apply.
This doesn't mean that you have to create 100 blog posts before you can even think about becoming an affiliate marketer, but you should have at least 5 strong posts already on your site with more scheduled.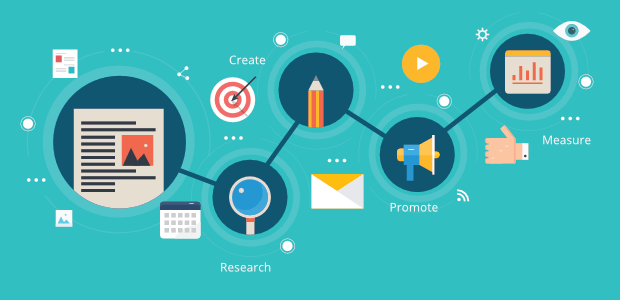 New to content marketing? We have an excellent beginner's guide to content marketing to help you get started. And, definitely check out our SEO guide to optimize your content to drive traffic to your site!
Yes, email is still the #1 communication channel for marketing. And, it still carries a completely wild $38 return for every $1 spent.
What does this mean to you? That it's 3800% worth it to invest some time and money into growing your email list.
One of the easiest ways to grow your email list is by adding a popup to your site: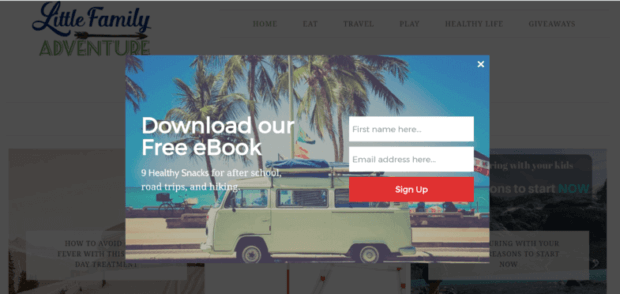 Don't worry if you've never done email marketing before; we've all got to start somewhere. We have a beginner's guide to email marketing that will take you from zero to automating your email marketing campaign in no time.
If you're looking to step up your email marketing campaigns, check out these posts on decreasing your unsubscribe rates and segmenting your email list like a pro.
5. Choose Affiliate Products to Promote
If you've done the work to choose a niche, choosing affiliate products to promote should be easy! Choose products that fit your niche and relate to your content.
Where do you get ideas for products to promote? Anywhere, really:
Promote Products you Already Use
What do you already use and love? There's probably an affiliate program for that.
Make a list of all of the products and services that you use and hit up Google to find their affiliate programs. Then, write reviews and plug in the affiliate links.
Love OptinMonster? There's a program for that.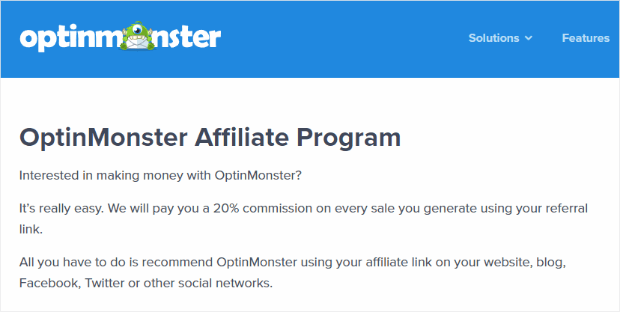 WordPress your thing?

Or, maybe you're less into the digital and more into the glam. Perhaps a Sephora affiliate program is more your speed?

Whatever you love to use, there's a good chance an affiliate program exists for it.
Promote Products That Fill a Need
Listen to the people who are interested in your niche. What problems are they facing? Are there gaps in the solutions that are already available? Find products that can help and try them out. If the products are good, become an affiliate and recommend them. Your audience wants solutions. If they work, they'll be willing to pay for them.
Promote Products Your Audience Wants to Know About
Ask your audience what they're interested in and try it. If it's a good product, recommend it. If it isn't, tell them. At best, you'll get sales. At worst, you'll gain more trust from your audience. Which basically means there's no "worst" here.
Promote Products From Others in Your Niche
Pay attention to other affiliate marketers in your niche. What are they talking about and promoting? What ads are they using? Check out Instagram, Twitter, Pinterest, and Facebook to take a look at #affiliate and #ad to see what other affiliates are promoting.
6. Join an Affiliate Marketing Network
Affiliate marketing networks are essentially online marketplaces where retailers list their products and affiliates can find products to sell. The marketing network acts as a middleman. As the affiliate, you should never have to pay to sign up for an affiliate marketing network.
Here are a few of the more popular affiliate networks out there, but there are so many more than this:
Want to start your own affiliate program? Affiliate Royale makes it ridiculously easy!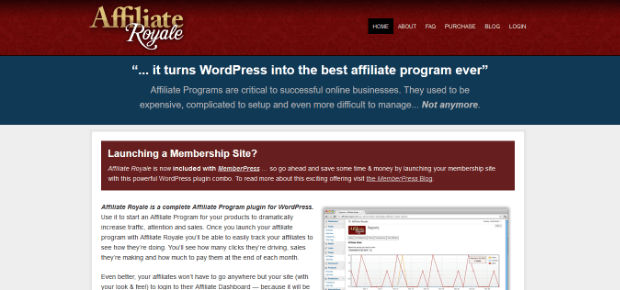 This WordPress plugin lets you launch a fully-functioning affiliate program from start to finish in just a few minutes. You'll be able to easily track outbound links, clicks, payments, and sales from your easy-to-use dashboard, personalized to include only the data that's important to your goals.
You can use MonsterInsights to easily track the performance of your affiliate products on a WordPress site.
To get started, you'll need to install and activate the MonsterInsights plugin. Then, connect your WordPress site with your Google Analytics account.
Once activated, you'll go to Insights » Settings in your WordPress dashboard and select the Tracking tab.
There are several sections to the tab. We start out in the Engagement section where you can see that Enable MonsterInsights events tracking defaults to Yes, which is what we want.
Since we don't need to take any action in this section, let's click on Affiliate Links.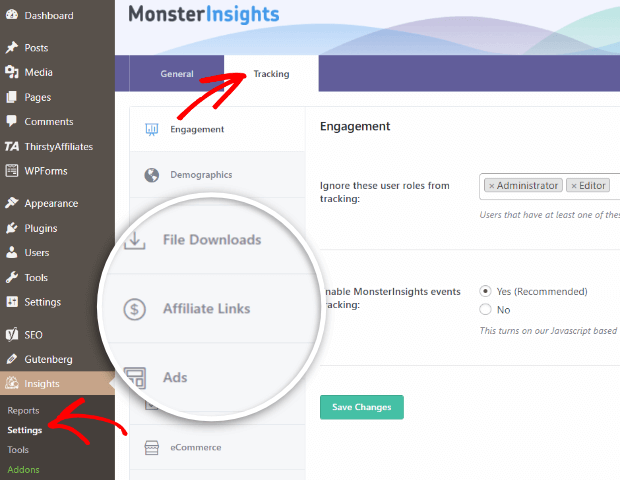 In the Affiliate Links section, we're going to set our affiliate link path using the prefix that our affiliate link plugin adds.
In our screenshot, we used "/recommends/" because the plugin we're using, ThirstyAffiliates, uses that as the default prefix.
Next, we're going to add a label (we used "aff") so we can easily identify our affiliate links in reports.

Be sure to save your changes.
Once you make these changes, it can take at least 24 hours for Google Analytics to begin reporting.
To view the data, go to your Google Analytics dashboard and click on Behavior » Events » Top Events. Your affiliate links will show up as "outbound-link" with the label you assigned to them.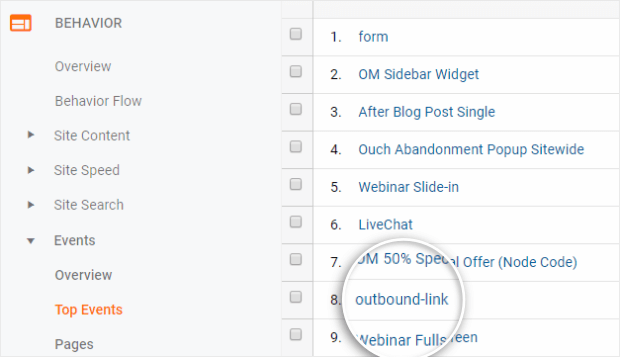 Tracking your affiliate links in this way can help you understand which products perform better with your audience which can help you provide better products to them in the future.
Even better, you'll be able to use this knowledge to provide them with better content, increasing their trust and loyalty. This will keep them coming back to you time and again.
If you want your affiliate links to be shorter and more memorable, you should look into a link tracking plugin like Pretty Links.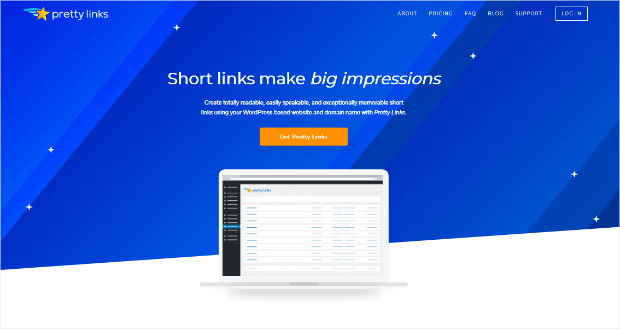 Pretty Links is super easy to use and turns those long, not-so-pretty affiliate links into something readable. Plus, Pretty Links makes it easy to brand and advertise your affiliate links, manage server-side redirects, and has built-in performance metrics so you always know how your links are doing.